Ministry of Education released Performance Grading Index (PGI) for 2019-2020
Dr. Ramesh Pokhariyal. Minsiter of Education approved the Performance Grading Index report for the year 2019-2020. According to this report around 19 states have shown the improvement of around 10% or more in the category of Governance Processes. It must be noted that the Andaman & Nicobar Islands, Andhra Pradesh, Arunachal Pradesh, Manipur, Punjab, Rajasthan & West Bengal show improvement by at least 20%.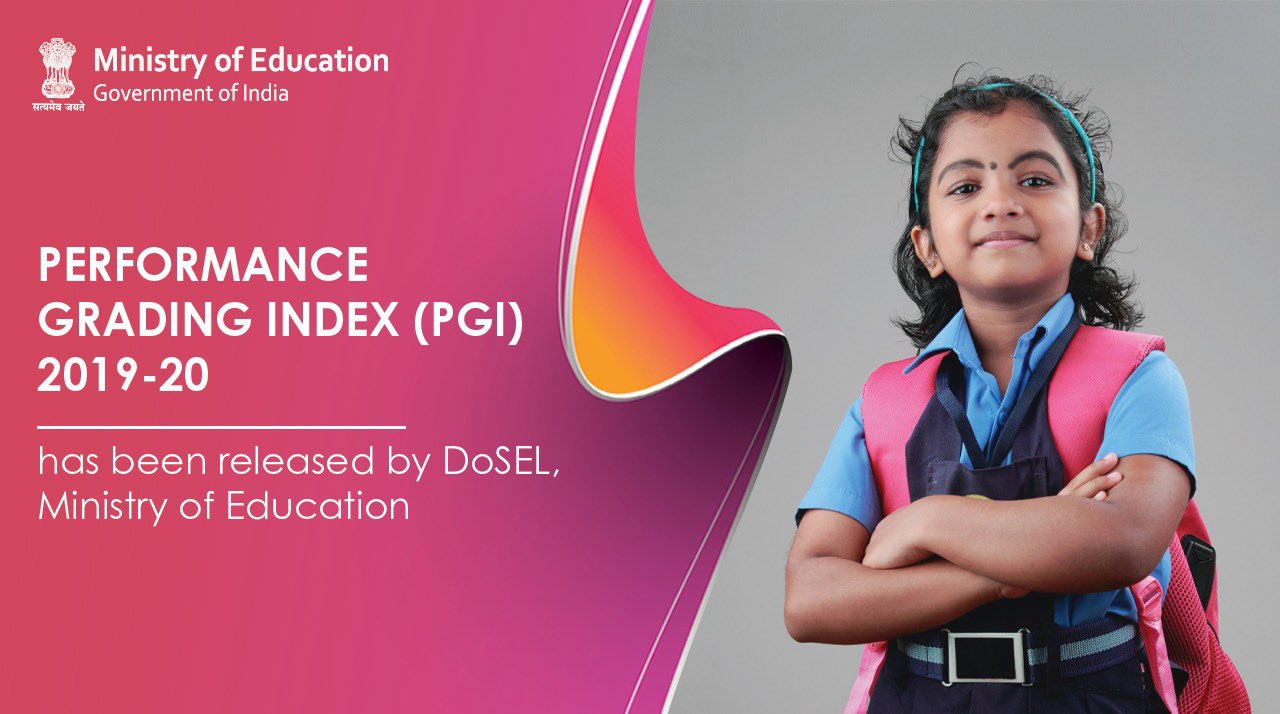 PGI is based on 70 different parameters in order to evaluate the transformational change in the field of education. According to this report, Punjab is at the top by securing 929 points out of 1000, while Ladakh which got status of Union territory is the lowest with 545 points.
The top five states or union territories are Andaman and Nicobar Islands, Kerala, Chandigarh, Punjab, Tamil Nadu. These states are having the points between 901 to 950 and they received the level 2 with grade I++. It must be noted that Arunachal Pradesh, Nagaland, Chhattisgarh, Meghalaya and Ladakh are the lowest scoring states.
Punjab has improved its PGI points from 769 to 929, which is the highest for any other state in India. It must be noted that in the previous edition of the PGI, Chandigarh stood first for the year 2019-2020. According to this report, the Tamil Nadu has scored greater ranking from Kerala.
Many states and UTs have shown improvement but some states have shown the regression as well. Gujarat's ranking has dropped from second to the eight. The reason for the lower ranking is the domain of access, enrolment of students, dropping of the students from school,etc. The state where we can clearly observe the regression is Madhya Pradesh and Chhatisgarh.
The Maharashtra which the highly industrialized state of the country, has scored 869 points and falls in the I+ grade for level 3. Bihar has scored 747 out of 1000 points. For more information please visit Ministry of Education.
What is full form of PGI?
PGI stands for Performance Grading Index.
What is PGI or Performance Grading Index ?
The Performance Grading Index (PGI) is a tool to provide insights on the status of school education in States and UTs including key levers that drive their performance and critical areas for improvement.
What is the methodology in Performance Grading Index ?
It is based on the 70 various parameters which include learning quality and outcome, access to education, infrastructure and facilities, governance process, equity and many more. Based on all such parameters every state is evaluated from 1000 points.
Is PGI or Performance Grading Index stands for college too ?
No, PGI is only for school education in India, not for colleges.
How many indicators of grading are there?
According to the Ministry of Education, 70 indicators which have proven their worth were identified by stakeholders and domain experts. The States and UTs are assessed on their performance against each Indicator and given a Grade. States/UTs can improve their grade by improving their performance under all 70 Indicators.